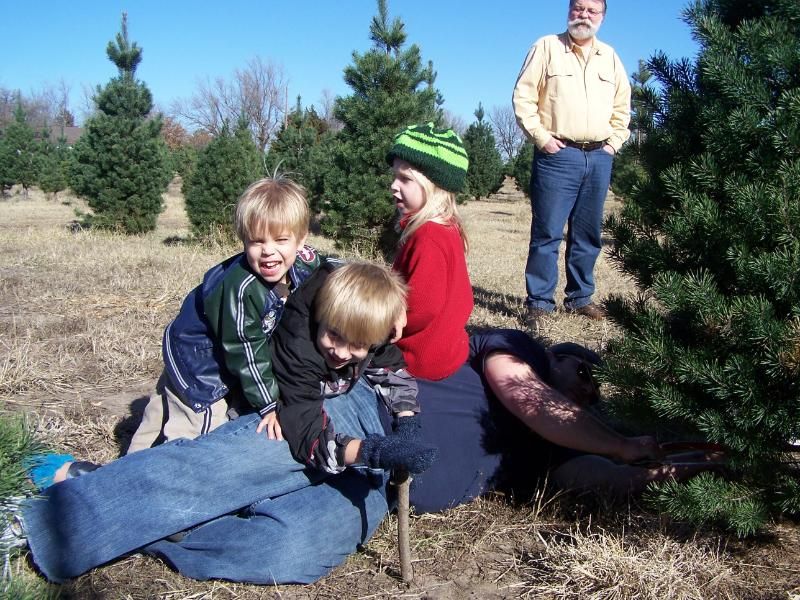 My kids think anytime I lay down on the ground, it's time to rough house.
Last week, my Mom and Step-father joined us in Kansas for Thanksgiving. The next day, we all went out to the Christmas tree farm to select our family Christmas tree. This is a tradition that I experienced as a boy growing up, and I can't even begin to tell you what it means now as a dad.
I grew up in a family that treasured family time – each year we cut a live tree (because artificial trees are awful), string it with white lights (because colored lights are of the devil) that don't blink (because lights shouldn't crawl like ants or blink like they have a bad fuse), and decorate the tree with ornaments from our (the kids) childhoods.
This year, my mom got to see me in a different light. This year, she joined my family as we selected a tree, she helped string the lights (in fact, she may have completely strung the lights on the tree), and place ornaments from my kids childhoods on the branches. (My step-father even bought us a remote control clicker to turn the lights on and off.)
Looking back on this Thanksgiving, one of the things I was (and still am) most thankful for is that my family got to spend time with my family. My kids got to spend time with their Granny-Sue and Papa-Steve. And our house was filled with laughter and love this Thanksgiving.
Thanks Mom and Steve. We loved having you guys over. Thanks for making the trip.